https://www.garrettspecialties.com/h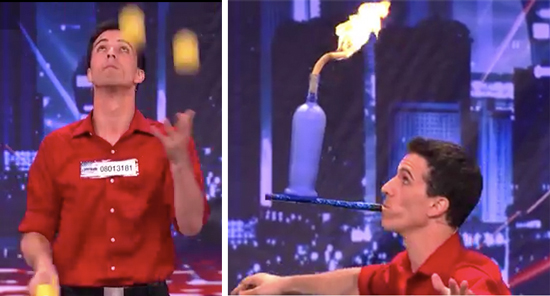 Did you see when David Ferman did his juggling and balancing of a burning molotov cocktail act on America's Got Talent? Amazing. He's a smart kid. He realized that in order to impress the judges and the audience that he needed to do something extraordinary. With a little creativity and organization we are all capable of being more productive, successful and profitable. Like Ferman, we have to be consistent, apply practice as well as step out of our comfort zone.
Here is the clip of David Ferman in action. This is how I feel when I'm trying to "juggle" my company. As a business owner there is a lot of pressure to get things done all while, managing, taking risks and captivating an audience.
While I like to watch TV, I don't normally have much time to watch TV and I don't have time to watch TV because I'm too busy juggling multitude of tasks for my business and daily life. So I sat down to write this post and come up with ways to maximize productivity for business. Some of these ideas can also be applied to our daily lives.
Business Productivity is an organization's ability to use all recourses available to them in an effort to produce an environment where goods or services needed by customers and clients can be profitable. Are there things that could be changed within our businesses would make them more productive? There is often a lot of wasted time, redundancy and lack of focus in business. Ever put off a project that you knew would benefit your business because you "didn't have the time"? Yet we find time for everything else that needs to be done and more.
6 Ways to Organize and Maximize Business Productivity
Manage Your Time
To maximize your productivity you must first become organized. By becoming organized you can focus your time on important tasks. Start with a time journal. Within a week, it will become clear where time is being wasted.
Do What You Are Good At
Look for passion. If you are repeatedly given a task that you don't like to do it will most likely take you twice as long to complete it. Delegate and outsource tasks that can be done by others and focus on the work that you are passionate about. This concept applies to your employees as well. A quarterly evaluation of each employee will help you decide who is right for what job.
Work With Your Customers
Remember the Pareto Principle better known as the 80-20 rule? This principal simply states that 80 percent of your results come from 20 percent of your resources. How does this translate in terms of business? Well 80 percent of your profits come from 20 percent of your customers. In addition, 80 percent of your sales come from 20 percent of your products.
So ask yourself, who have you done the most business with recently? Make a list with 30 of your best customers then narrow that down to 5-10 customers that you do repeat business with. Do you think they would be willing to refer you to others and are they people that you think you would like to work with? Discuss with them whether or not they would be willing to refer you to others and if not, what can you do different so that they would. Did you know that most referrals come from those who receive promotional products from a company. That's because promo gifts are great reminders and keep the company's name in mind.
Make those customers feel important. Sometimes it is the little things we do for people that seem so big and are appreciated the most. For example:
Host a special event just for the 5-10 customers on your list to show that you appreciate their business.
Incorporate giveaways into your event or marketing plan. Find items clients can use in their everyday lives such as a pen with your logo.
Send cards or emails thanking them for being a customer.
Acknowledge Your Vendors/Employees
People like to be acknowledged, they like to feel appreciated. When was the last time your let your vendors know you appreciated them and understood that without their products you would not be in business? A little acknowledgement can go a long way.
I make a habit of thanking the people I work with and letting them know that no matter what position they hold, their job is important. A couple of times a year I give custom gifts to vendors and repeat customers. I always get positive feedback. They like the idea of me thinking about them and see it as a reward for their business.
Although this may not yield immediate results, it is a productive way of using your time because keeps your business relevant. I have seen my logo in other stores and offices because of the promotional item that I had given out. The exposure is inexpensive and unlimited.
What's not working?
At least once a year you have to take an honest look at how your fiscal year was and if it was not what you expected ask yourself "What is hindering me from reaching my maximum potential in business?" Make a list, literally write it down.
Knowing is always half of the battle. Once you know what needs to be changed reach out to another business owner or mentor. By discussing your concerns with someone you trust and admire you become susceptible to learning something new.
An Ideal Day
Whether on your computer or hand written, keep track of your ideal days. Remembering what made your business day successful will give you a greater chance of recreating that success. Having a resource of successful days can only be beneficial. Be specific in your writing. Take notes that day as if you were in class listening to a lecture. No detail is too small, even down to what you were wearing.
Do you find yourself performing a balancing act? How do you manage to juggle your business productively? How can these practices translate into your daily life too?
(Screenshot via America's Got Talent YouTube)