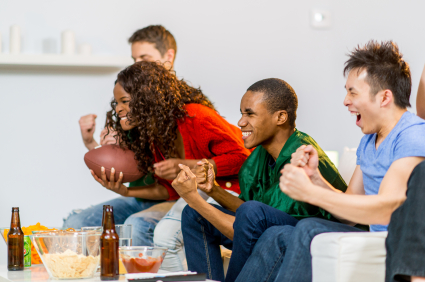 We did it. We braved the holidays and sailed into the New Year. Now our reward is just around the corner. What reward you ask? Well none other than the Super bowl of course. I wait all year to see the best commercials advertisers have to offer. Of course I watch the game, but as a marketer I look forward to the commercials too. With an estimated 111 million viewers watching the game, The Super Bowl is an event for football fans but for business alike. This is the only time of year where businesses obtain this extensive amount of viewership. Do not underestimate the power of Super Bowl Sunday! With Super Bowl Sunday comes the power to draw in viewers, capture their undivided attention and make consumers actually sit up just to watch commercials. I have been at Super Bowl parties where the room is just as quiet for commercials as it is when the game is on.
The Super Bowl can be summed up into three categories, the game, the half-time show and the commercials. It is from the game that this day gets its origins, let's face it, we all want to know who is going to Disney World, but we also want to see what Doritos or Coke and Pepsi will come up with this year. The first Super Bowl was in 1967 but there were no note worthy commercials until the 1970's. In 1967 a 30 second commercial spot cost $42,000 this year a commercial spot cost 3.7 to 3.8 million dollars but with the opportunity to sell your product to the largest television audience of the year companies see this day as a marketer's dream.
So now the question becomes, how your business can capitalize on Super Bowl Advertising. The cost for one commercial slot might be over budget for your company, however, here are a few ideas to put your business in the game too.
It's not just about football… how your business can capitalize on the Super Bowl
Your Business Can Relate to Football in More Ways Than You Know
OK, so your business has nothing to do with football or sports at all but that doesn't mean you can't use Super Bowl Sunday to your advantage. One lending company sent an email to its customers comparing their company with the success or record-breaking NFL seasons. Don't be dismayed because your company is not sports related. There are plenty of commercials every year whose companies have nothing to do with sports. Dare to be different!
Not a Fan? Not a Problem!
Even though 100 million people are a lot of viewers, there are still 200 million other Americans who are doing something else, go get them! Establishments such as restaurants can offer their customers a TV free day with the promise of a quiet dinner. I can think of many people this would appeal to. But there is nothing wrong with getting your customers involved, it is actually a great idea to get your loyal customers involved so why not take a survey and ask your customers what they would like to do on Super Bowl Sunday in lieu of watching the game. You may just find an idea that can spark an annual event therefore making your company synonymous with the day.
Grab the "after the game crowd"
So what do you do when the game is over and the Super Bowl party you are at is winding down but you are not ready to go home? This is a question that plagues many so why not have the answer. A great way to advertise to the post game crowd is by using a promotion based on how the game ends. Maybe you have a promotional giveaway that includes your logo with the winning team colors or offer a percentage off of you products based on the winning score. If the winning teams score is 33, give 33% off purchases made by the first 20 customers. Something like this would grab my attention.
Everybody Loves Party Favors
Promote your business with products that will be used throughout a whole party. For example, get your logo on disposable items like cups, napkins and plates. Every time a person at that party looks down at the food on their plate they will see some part of your company logo. By the time they leave they just might Google your business just because they have been looking at the logo all night and want to know more about your company and isn't that the purpose of logo's?
Pick a side
This is not always easy especially since I myself usually don't side with a team until halftime unless, of course, it's the Eagles. But choosing a team early can be beneficial. Let's say the 49ers were playing the Carolina Panthers, if you are a San Francisco fan, why not offer discounts and specials to everyone that walks into your business with a 49ers jersey on. Get creative, when the Giants played New England one year a NY bar banned the sale of Boston Sam Adams beer. You may be surprised to find how something so little can draw a crowd.
Don't be left out in the cold this Super Bowl Sunday just because you didn't have millions of dollars to spend on a commercial, there are unlimited ways for your business to gain exposure and profit. Through fun giveaways, sports promotions, football logo merchandise and by thinking outside the box you can discover a way to forever link your business with the Super Bowl.
Just for fun…here are some of the best Super Bowl commercials of 2013.
What are some ways your company participates in the Super Bowl? If you haven't in the past, will your this year and if so, how?