Once again Nik Wallenda has captured the attention of the world with another death defying stunt. At only 34 years old, this daredevil completed a tightrope walk over the Little Colorado River Gorge (Grand Canyon), 1500 feet in the air with no net or harness, on a steel cable that was only 2 inches thick. As I was reading the article about the stunt, I realized that we can relate to our businesses.
Wallenda's Discovery Channel Imprinted T-Shirt
While watching a video of the stunt I noticed that Mr. Wallenda had on a Discovery Channel t-shirt. This sparked my curiosity so I went to the Discovery Channel website and there it was, Skywire Live with Nik Wallenda and his post walk interview. If it wasn't for the t-shirt I may have never known that there was an in depth special on the tightrope walk. What an ingenious way to gain ratings and followers. The equivalent to this would be gaining new customers and with new customers comes profits. Sometimes in business we need to take a longer look at how we promote it. A promotional product like the custom t-shirt Mr. Wallenda wore is still one of the top 3 ways to gain exposure for your business.
Before Walking the Tightrope
I cannot begin imagine the amount of planning that went into the tightrope walk Mr. Wallenda embarked on. However, he put a lot of practice and preparation into this stunt. He talked about how he was in control of everything except for Mother Nature. Each element from the wind speed to the cable itself had to be accounted for. Every business needs a plan. Often we see businesses fail because there was not enough planning. In addition to having a vision for your business, every business needs a strategy. Next it is important to take your recourses into account. Once you have figured out what you want out of your business, have evaluated what you have to offer and taken advantage of all of your resources then you are ready to create a realistic budget. Ever heard of a business going "bust or belly up?" Corporations close everyday in this country simply because they never had a realistic budget and over or under spent.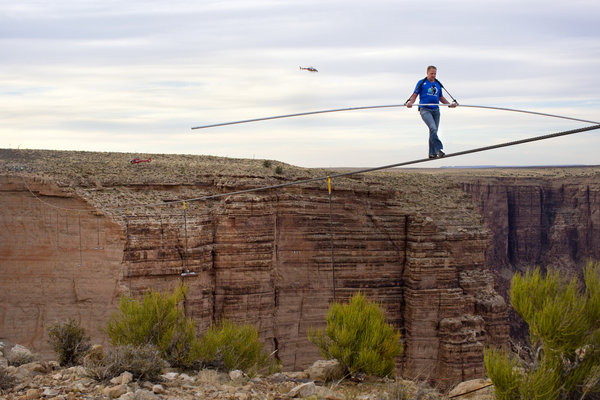 "Everything We Do is Dangerous"
As Wellenda said and "everyday you walk out of the house is a risk" but Thomas Jefferson said it best, "with great risk comes great reward". Mr. Wallenda took a risk that many of us probably won't but in doing so he gained great rewards. Mr. Wallenda has been televised for the world to see, once again becomes a Guinness Book World Record holder for the only man to cross the Grand Canyon on a tightrope wire and is a name in many households. Mr. Wallenda could never have accomplished any of this without the risk that came with his endeavor. When is the last time you stepped out of your comfort zone and took a risk in your business? So you may not walk a tightrope but maybe you can paint your office or extend your product line. Often risk is a scary word, but just being in business is a risk in itself. Opening your business took courage and you have accomplished that so what's a little more risk to maximize your profits?
Learning from Successors/Being Undeterred
Mr. Wallenda is a seventh-generation high-wire artist and is a member of the "Flying Wallendas" which is a famous circus family. No stranger to tragedy, the Wallenda family has much suffered loss. Karl Wallenda, Nik's Grandfather died in 1978 while attempting a tightrope walk but this still did not deter Nik, instead he decided to use it as inspiration and studied the mistakes make by his Grandfather. Nik then forged ahead to see to it that his dream was realized. When interviewed Mr. Wallenda said that it had been a dream of his to cross the Grand Canyon ever since he was a teenager and first visited with his family. There are many lessons that can be learned from our predecessors in business. Taking the time to figure out why a predecessor may have failed is equally as important as studying their successes.
How has planning ahead helped make your business a success?
What obstacles did you face and how did you overcome them?