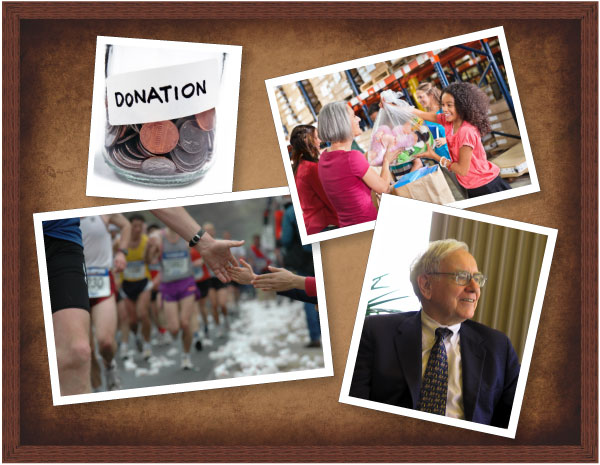 The inspiration for this post came from an article I read yesterday. As part of The Giving Pledge and because of the personal commitment he made in 2006, it was announced that Warren Buffet was giving $2.6 billion of Bershire Hathaway Inc. stock to 5 more charities.
In Warren Buffet's "My Philanthropic Pledge" he states:
…this pledge does not leave me contributing the most precious asset, which is my time. Many people, including — I'm proud to say — my three children, give extensively of their own time and talents to help others. Gifts of this kind often prove far more valuable than money.
I found this to be very inspiring. Reading it made me think of ways that we could give back to the community, show support for a non-profit organization or charity without having to spend a fortune.

5 Alternative Ways to Donate to Charity
Fundraisers
A really fun way to give back is to join a fundraiser. Many fundraisers involve things like walkathons and marathons. A wonderful way to spend the day with the family while participating in healthy activities and supporting a cause. Also fundraising ideas are a way to spread the word out about a cause or social issue. The re-sale of fundraiser items help boost fundraising efforts. You can use fundraising gifts to advertise your business at charity events that you sponsor.
Volunteer
Volunteering is a great way to give back. Donate your time to help the charity of your choice. You could lend a hand to feed the homeless, spend time with the elderly, or help clean up a park. There are resources, like VolunteerMatch, online that will help you find volunteer opportunities in your area. If you own a business encourage employees to get involved. It can prove to be a rewarding opportunity for everyone. Represent your brand by wearing corporate logo t-shirts or name tags while volunteering.
Clothing Drop
Giving away my used clothing and/or household goods is one of my most favorite tasks. There is something freeing about a good household purge. My rule of thumb is if I haven't used it or worn it in 2 years then it can go. The added benefit, of course, is that when you give your clothes and things to charity you know it won't go to waste. What is no longer valuable to you maybe to someone else. Keep in mind that you can not donate outdated goods such as Tube TV's and VHS tapes. Make sure you check with the organization before your bring your stuff to the drop off location. If you have an abundance of promotional products left over from an event, they might make a good donation as well.
Food Banks
It's amazing how quickly you can fill up a few boxes of food by collecting non-perishable and canned goods from your neighbors, family and friends. Local food pantries are always in need of more. According to the organization Feeding America over 50 million people in this country are struggling with hunger. One idea is to imprint your business logo on an economic tote bag. Then hand them out for those to use while collecting food for the food banks. This way you can gain exposure and creditability for your business.
Matching Gifts
The corporation that you or your spouse work for may offer a matching gift. This means that when you make a charitable donation your company will match that donation. So for example, if you give $100 and your company matches at a 1:1 ratio then the charity will get $200. Make sure you check your firm's website before you make your next donation because you might be able to make it go twice as far.
All these ways are helpful and may require your time. The bottom line is, like Buffet said, time is a very valuable asset and that is the best thing you can give to someone who is in need.
What ways have you given back to the community? Are there any other ways you can think of to help a charity of choice?