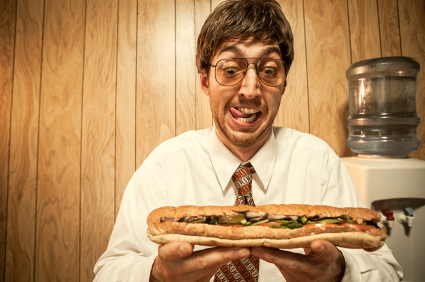 Do you find yourself doing everything but eating at lunchtime? Do you even take a lunch break? Are you one of those people that thinks working through lunch makes you more productive? Do you eat at all during your break? Be more productive by taking a break!
The whole point of a lunch break is to do just that, break. Although we may not always think of our break time as a part of our productivity in business, it is. There are many reasons why employers are required to give a lunch break. Too many lunch breaks are taken at ones desk with a sandwich in one hand while typing with the other. It seems as though our society doesn't believe in breaks anymore. We have become work obsessed and many of us have forgotten the benefits that come with downtime. Our brains are always working. Just as important as refilling your car with gas to get to work we must refuel our brains to continue to work effectively.
Lately, I have found that I haven't left my desk much. I've been so busy that sometimes I skip lunch. I know many of you are just like me even if you work from home. So I took some time to do some internet reasearch and here are some ideas that I have come up with. These are ideas that I've found that I will apply to my day to make it less stressful and more productive.
 7 Things You Can Do During Lunch to Be More Productive

It's called a Break for a reason.
We are all guilty of it. You only leave the office when you haven't brought your lunch in with you or when you have errands to run. Usually you find yourself bringing your lunch to work so you never leave your desk, this is counterproductive.  Take a break in the true sense of the word. Leave the Blackberry or iPhone at your desk. Most of us are staring at a screen of some kind all day. Your brain needs a mental break from computer screens and so do your eyes. Just going for a walk around the block may be all you need to break the monotony. Fresh air and sunshine can be mood altering, inspirational and calming. A happy employee leads to better moral overall and creativity which often translates into productivity.
Take control and let go.
Make lunch time your own by taking control of your lunch break and not letting it control you. Don't bring the stress of the office on break with you. Take the time to clear your head and not focus on work if only for a short time. Give your brain a rest. Coming back to the office after a relaxing lunch can make you a better problem solver and also help to boost your creativity.
Get up and out.
Don't be so attached to your desk. There is a good chance that if you leave your desk at lunch time it will still be there when you return. Why do we stay at our desks like they are going to float away without our elbows on it? Get out, get up. Not only is it beneficial for your mental health but your overall health. By getting away from your desk and going for just a short walk you increase circulation not only to your extremities but also to your brain.
Here is a fun way you can enjoy your lunch and get some exercise too! I found this comedic video on YouTube but all jokes aside it's not such a bad idea to get some yoga in during your lunch break either.
Chew.
Breakfast may be the most important meal of the day but lunch is a close second. Food gives our bodies the energy it needs to function correctly. Once we have refueled our bodies we are apt to better concentration, more effective decision making and quicker responses making for a productive worker. You are not helping anyone by starving yourself throughout the day, least of all yourself.
Make a new friend.
Use your lunch break to make new connections. Making new connections is can be beneficial to your marketing plan. Through "word of mouth" you not only get a personal spin on the company but you have capitalized on free marketing and advertisement at the same time. Who knows who the person sitting next to you may be? Venturing out and making new connections opens your business up to clientele that may have otherwise never known about your company. Networking is one of the cornerstones of business, like most things in life it is who you know. Why not use your lunch break to connect with potential customers?
Bring someone along.
Help someone else have a real lunch break by taking a customer to lunch. Staying connected to your customers is one way to keep them coming back. Make a list of customers that have supported you from the beginning of your business venture and/or those that you would like to especially thank and take them to lunch. This gives you a chance to remind them that you are still there and that you appreciate their business at the same time. It is important to keep your customers coming back. Your promotional marketing can really benefit from this. This is your chance to make an impression.
Plan your breaks.
Just because you are on a break does not mean that you have free time. Maximize the time you have by planning your day ahead. Stop scheduling your lunch breaks around meetings and conferences. It is ok to take the time to recharge your body.
By using online project management tools, planners and calendars you can effectively manage your day. Schedule meetings 45 min before and after lunch so there is not a feeling of "I have to get right back" or "I can't leave".
Run the errands you don't have time to complete after work. Maybe you need to go to the bank or the cleaners. Use your lunch break to lessen the load of the evening but don't overload your lunch break either. The point is to maximize your time, not trade one stress for another. By handling errands at lunch time you are away from the office and have made you evening less hectic.
What are some things you have done on your lunch break? Do you find taking a lunch break to be beneficial to your day? Did you take lunch today?