As the summer is coming to an end I can't help but feel a sense of rejuvenation. It's Back to School season which, for me, feels like a new start. Similar to how a New Year feels. During the summer, for some of us, business slows down and all anyone ever wants to do is relax and enjoy the sun. But now as we approach the end of August things start to change. It's time to get back to business and so like me you probably need a reboot. Now is the best time to evaluate and plan how you are going to handle the rest of the year and make the most out of it. So, in today's post I have put together 8 ideas on how to reboot and get back to business.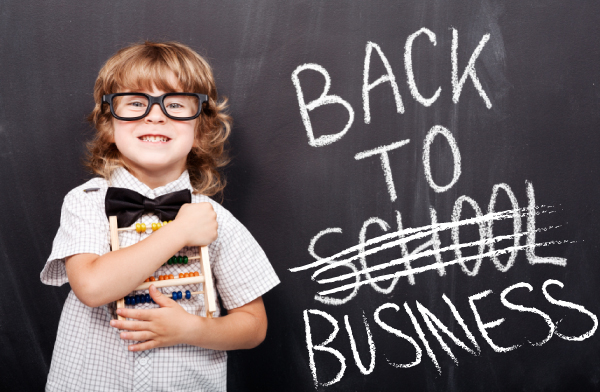 8 Ways to Reboot Your Business
1. Out With The Old, In With The New
Hopefully your business is exactly where you always envisioned it would be. You look at your business and you see all of your hard work paying off and the goals you once set for yourself accomplished. Whether or not that is the case, there is always room for improvement. Set new goals that will keep your business relevant in an ever changing world of business. What are you willing to leave behind, what are you willing to change? The answer maybe just what your business needs to continue to be successful for many years to come.

2. Have Reasonable Expectations Of Yourself
Be true to thyself. Let's face it, we are a society that wants instant gratification, instant results. We microwave our food because it is faster, we eat out at fast food restaurants, and we logon to sites such as Netflix or Hulu to watch whatever episode we missed and only if we didn't DVR it first. But there is usually no instant gratification in business. So make your expectations reasonable. The last thing you want is to set your sites to high and fall short of your goal. Also, if you know you are a person that doesn't always follow through with your plans, enlist the help of someone who does, it is important to recognize when you need help and ask for it.
3. Learn To Delegate
Use all of the recourses that you have available to you. People like to feel like they have helped in the creation of something great, so let them. Employees are also apt to work harder and more efficiently if they feel like they have been a part of the creative process. Sharing the responsibility of growing or rebooting your business not only will take all of the weight off of your shoulders but will give you a greater chance for success because two heads together are better than one. Make it a shared vision, an opportunity for everyone to share in the possibilities of what's to come.
4. Have Patience
Rebooting a business can be a slow, in depth process; you will not see results overnight so be patient. Over time you will see a gradual change and feel like all of your hard work is paying off. Some changes will happen quickly but will more than likely have to be modified. Don't let this discourage you. Through modification you will learn what works and what doesn't. There is no better way to learn than from our mistakes and missteps.
5. Be Open To Suggestions
Diversity is the key to all innovation. Ask people for their opinions, make them feel like their thoughts are important and incorporate them in your rebooting process. Have a diverse group of people you can get ideas from. Don't forget to enlist the opinions of those who may think your new venture is a bad idea. Some of the best inventions and business models came from constructive criticism. Imagine what Alexander Graham Bell's critics said when he told them that he was going to invent something that would allow people to talk to each other without ever leaving the house, an invention that would allow you to speak to people across oceans. They must have thought he was crazy and yet we don't leave home without our phones. Constructive criticism may be just the motivation you need. It also can give you the opportunity to relook at your plan and weed out things that might not have worked.
6. Don't Just Talk About It, Do It!
The most encouraging thing for an employee is to see their employer doing exactly what they are asking their employee to do. If you are implementing new policies, abide by them. "Practicing what you preach" will allow your employees to see that you believe in your new vision or changes that have been made. Your employees will be more inclined to accept the changes as well as do their best to make your reboot not just an idea but also a realization.
7. Get Social
If you've you been intimidated by social media, trust me, I know how you feel. However, it's not as difficult as you think. In fact, it's fun. Now is the time to get social. Social media is one of today's most powerful marketing tools. We can start a whole new blog on the topic because there is so much useful information out there about social media. I'm not going to start a new blog now but my advice is for you to get connected.
8. Revise Your Marketing Strategy with New Logo Giveaways
Evaluate your target market and refine your strategy. When was the last time you reconstructed your marketing plan? When you create an advertising campaign the main goal to give you a competitive advantage. However, you must reevaluate it at least once a year so that it can respond to the changes in the environment, customer responses and technology.
Does your advertising plan included promotional gifts? This is a good time to check out what's new in the world of promotional products. What I love about the advertising specialties industry is that we are always being creative. With each year comes a ton of new, innovative and exciting business gift. If you've been giving out the same promo item for the past few years, now is a good time to switch it up with something new!
Have you ever given your business a reboot? What were some of the things you changed and how did it help your business?