I started agility training because it helps me to get exercise and clear my mind. It is a great way to enjoy my time away from the computer. I have learned a lot about myself through training my Dachshund, Roxie. The main goal in dog agility is to run your dog through an obstacle course. You are competing for accuracy and time. I've been able to carry these lessons into my business life as well. Continue reading to find out more about agility training and how it relates to business life.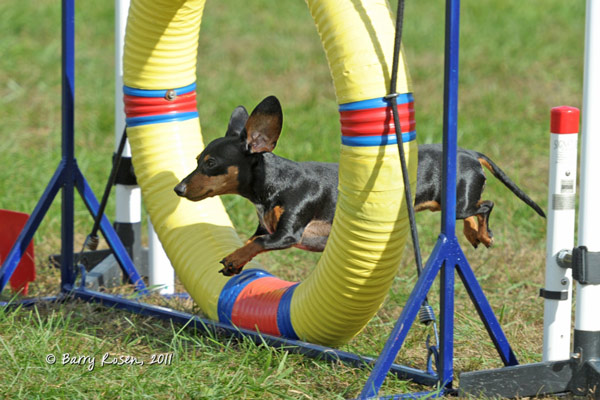 Overcoming Obstacles – Business Lessons Learned from Agility Training
Here are a few of the exercises that Roxie and I have had to practice and how agility training has helped me overcome business obstacles.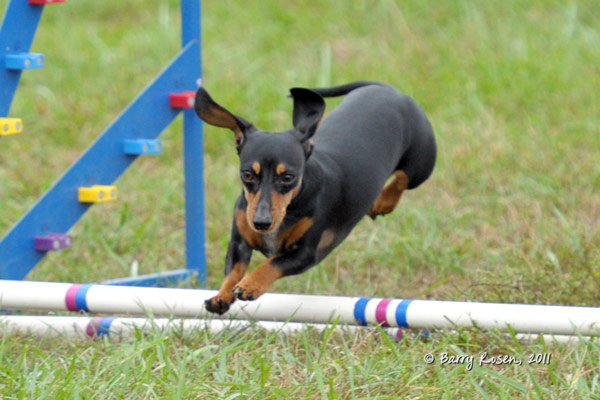 Bar Jump: The bar jump is when the dog has to leap over a bar that is raised to a certain height. When you want to teach your pet the bar jump, it is recommended that you use an adjustable bar. That way you can start off low and as your pet becomes a little more comfortable with the obstacle you can slowly raise the bar. You have to do the same when you are faced with obstacles that slow down your business. Take it one step at a time and slowly raise the bar. You wouldn't want to try to train your pet to jump the highest bar if he has never done a bar jump, would you? You have to slowly raise the bar and meet the obstacles to success on the way.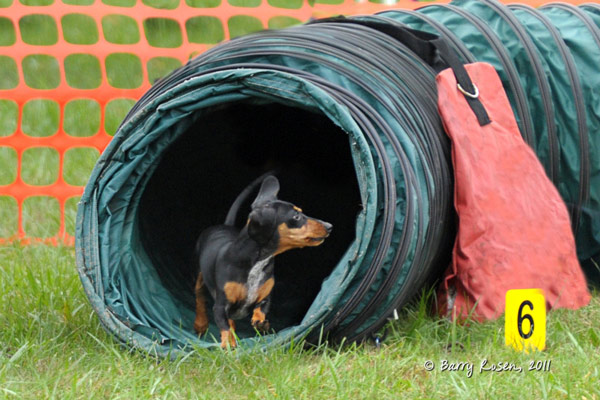 Tunnel: The tunnel is open at both ends and the dog must run through one end and make his way out to the next with no interruption. The tunnel is like the place of the un-known. Your pet may not know what to expect. It's dark and foreign; they might be hesitant at first. To train your dog to walk through the tunnel, scrunch it down to make it shorter. Then as they become familiar with it, you can lengthen it. As your pet begins to venture through, your job is to be that leading voice at the end of the tunnel. The same goes for your business. Be the voice of reason for your employees and vendors. Guide them through dark tunnels with a voice of strength, wisdom and confidence.
Weave Poles: In this task, the dog must go in and out of a set of poles. Weave poles can be the most difficult obstacles to train your dog. It will take a lot of time, practice and patience. As you can see, I have a Dachshund and by nature they are very stubborn and training them is a challenge. So, we mastered the weave poles with frequent practices in short intervals. I give her a lot of praise and recognition when she successfully completes a course. You should do the same for those who help you run your business. Be encouraging and always recognize your employees' achievements. I find that recognition awards make great motivators. Groups and teams should also make it a habit to encourage and praise one another.
Pause Table: The pause table is a table the dog must jump onto then sit and wait for 5-10 seconds before moving on to the next task. I like to compare the pause table to break time. You can be so wrapped up in your work that you have to almost "train" yourself to pause for a second. In agility training we teach our dogs to stay on the table for up to 10 seconds. This can be a difficult interruption when you have been running a course. Dachshunds have a mind of their own so having them follow directions can be very tough. So once you get them on a roll having them pause can be a challenging task. In business the same thing can happen especially when you are trying to beat the clock. However, it is important to stop and recharge your brain so that you can continue with a refreshed and focused mind.
Agility traing is great exercise for my dog and I. There are many fitness items aid to my success with Roxie, I like to use pedometers to track my steps and always have a water bottle handy. We all need something to do outside of our business to keep life interesting and so that we have something to look forward to after a hard day at work.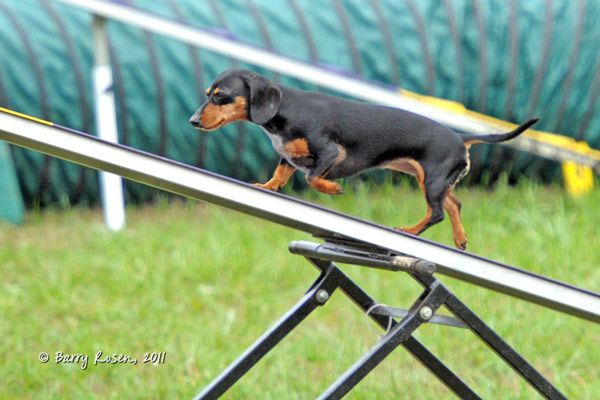 Teeter: The teeter is like a See-saw. A dog and easily lose confidence with this one. It takes concentration and balance. When training your pet to go over a teeter it is suggested that you have a friend on the other side help you guide your dog across. Like in business, the teeter is a balancing act. There are times where we don't know if we are up or down and we may feel like we are standing in the middle of a teeter. We have to hold steady and stay focused until the end. And don't be afraid to ask for advice and guidance from a friend who is already at the other end.
Obstacles: There are other obstacles that we have trained for, as you will see in my videos. A few of the lessons I have learned come from agility training in general and not just from each course exercise. Dachshunds are not your typical agility dogs. In business you have to deal with people that are not always pleasant to work with but you get through it with patience and ambition. Dachshunds are hound dogs and they always have their nose in the ground. Just like how some of your employees maybe pre-occupied and distracted you have to keep them on the right track. One of the hardest things for me in agility training is memorizing the obstacle course. You are only given 8 minutes to walk it through and your competition might not be for an hour later. This can make the competition very stressful but in the end, all of the hard work that we put in is well worth it.
The size and the length of the obstacles can be very overwhelming for Roxie and I. It takes a lot of time to build up to the confidence it takes to run the course. It's not easy. In business we have to overcome a lot of obstacles in order to be successful. The bottom line is that with practice, patience, perseverance and recognition we can build the confidence and strength to overcome any business obstacle.
Here is a video of my trainer running with Roxie:
Here is a video of me running with Roxie:
There are many techniques that I learned from agility training that I in turn have been able to use to overcome business obstacles. What obstacles in life and business have you had to overcome? What helped you to accomplish them? What challenges you and your business? Do you have an activity outside of work that helps you to recharge? I would love to hear from you!