Imagine streets full of pink. Thousands of survivors, fighters and supporters flooded New York streets this past Sunday. They were there for the Susan G. Komen Race For The Cure.
In the public service announcement shown below you can see in the faces of the women involved that they are proud to wear pink. They have bright t-shirts on that not only display a message of hope but every time they wear it they will be reminded of the race and so will the people who see them wearing it. This is a great example of successful cause marketing and the "power of pink".
The best way to fight Cancer is through education and early detection. In honor of this, October has become National breast cancer Awareness Month. A month dedicated to promoting education about the disease, providing free testing, raising money for research and gaining support for a cause that has affected so many.

For over 30 years The Susan G. Komen Foundation has worked to help eliminate breast cancer. Although the Foundation does many things to promote education and awareness for a disease that is proven to be fightable with early detection, most notable is The Race for the Cure and the color Pink that has now become a color synonymous with the fight against breast cancer.
Choosing a cause to support is something every business should do. Supporting a cause is not only beneficial to your company financially but it also translates to your consumers as your company being sensitive and up to date on issues that may be affecting them in their everyday lives. Your company does not have to be on Fortune 500's list to get involved.
With just a color, breast cancer has been brought to the forefront of our minds and the business world. That is the true "Power of Pink". A marketing tool that automatically makes you think of a cause and/or product. But this October, which has been coined breast cancer Awareness Month, let us not just think about how we can market a cause for our own companies benefit but rather reflect on how our own businesses can be a benefit to that charity at the same time.
Breast cancer is just one example of a cause that can be marketed, but the cause that your company chooses is not as important as making the choice to market one. Picking a well known cause that many other companies support makes marketing and promotion easier for your company but there is no one list of causes your company has to choose from. Whatever Cause your company decides to support, giving back is what's most important. How to successfully market a cause? Read below for more information.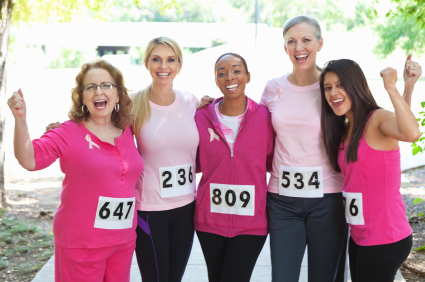 5 Ways for your Company to Market a Cause
Boost Office Moral
Market your cause in the office. If breast cancer was your cause of choice maybe you can have a Pink Day, a day in which everyone in the office wears pink or maybe everyone in the office could wear a pink ribbon pin. The options are endless and it will engage your consumers/clients. They will be drawn to ask what it is your company is participating in gaining immediate exposure and interest for your cause.
Offer Financial Support
There is no shortage of causes and/or charities that your business can donate money to. In this ever increasingly busy world you really may not have the time or energy to donate to a cause. I have not found a charity yet that will turn down a financial donation. Most donations can also be written off at tax time, which is always a great incentive.
Get Involved
There are many ways to be a hand on marketer for your cause. Donating your time is just one way of accomplishing this. The Race for the cause is one example of how donating your time can be beneficial to your business and your cause at the same time. Make it a corporate event, your employees will be proud to represent your brand when it is tied to a cause.
Give Non-monetary Donations
Recently I went to the dentist and while I was there my Dr. told me all about his trip to Haiti. Once a year he travels to Haiti to offer free dental treatment to people who otherwise may never see a dentist. Then his assistant told me that they would be giving free dental treatment to Veterans and their families one day this month. Not only did this make me proud to tell people he was my dentist but it also encouraged me to refer him to 5 other people who may have never heard of him otherwise. Consumers, patients and clients like to know that your company is not only interested in profit. Although every successful business needs to profit, profits are not the only thing that makes a business successful. A little charity can go a long way.
Awareness Promotions
Promotional Products are probably the most cost effective way for your company to market a cause and gain exposure at the same time. There are many different pink promotions but no matter which cause your company decides to market, one of the most exciting things about the times we live in is there is a awareness item out there for just about anything. Many promotional products can be used in our everyday lives but some of them are just plain fun. No matter which product your company chooses, any one of them is guaranteed to let your consumers know what cause you have decided to market.
What Cause has your business supported? Have you run The Race For The Cure? How did your company support that Cause? Which charity would you choose and why?