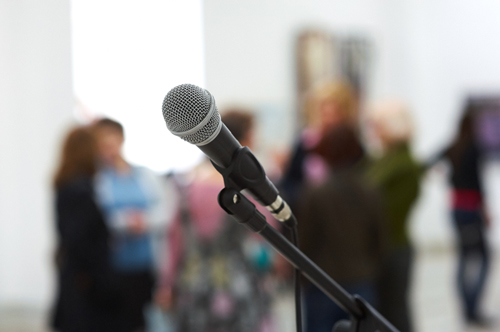 Have you ever had to speak in front of a large audience? So many people get nervous when it comes to public speaking. They might feel uncomfortable about their appearance, how they sound or it's just an unfamiliar situation. Sometimes, this is similar to how if feels when you have to present your business to an unfamiliar crowd. So, here are a few tips on ways to attract an unfamiliar audience.
1. Prepare for your audience. Study your new audience and understand what is different about them and how they compare to whom you usually do business with. Also be prepared to do a little improvisation as well since this is an unfamiliar audience you may have to think fast.
2. Make it fun! Break the ice with some humor. Ease the tension by lightening up the mood. Maybe tell a few jokes or play a game. If you are presenting in front of a crowd or even in a small conference room bring along your humor and some fun stuff too.
3. Know your purpose. Be clear on who you are and what you do. Your selling pitch or sales presentation should be clear, it should be impressive and convincing, it should be entertaining and it should make people want to take action.
4. Make it measurable. Your clients will love your comparisons when they see how your business can help them. What will change for them if they choose to do business with you? Provide them with measurable goals and paint a picture of the advantages.
5. Make it personal. When you include promotional products it makes the engagement personal because promo gifts are thoughtful. Choose items that you think your new audience will like and remember. Appreciation gifts do just that, they say thank you and leave an lasting impression.
Here is a funny video by speaker and comedian Darren LaCroix. He does improvisation and while you may not approach your unfamiliar audience quite like this; it's a good laugh. It's an example of how to make things fun and lighten the mood.
How do you attract an unfamiliar audience? Have you ever had to improvise in front of a new crowd? How do you make your presentation or sales pitch personal?