TD Bank knows how to say thank you and show customer appreciation. Especially when it comes to promotional products. If you are familiar with TD you are probably also familiar with their many logo gifts such as their famous custom pens, logo piggy banks, lollipops, and notepads. Well, recently they started a campaign called TD Thanks You where they set up ATM machines that gave out more than just cash.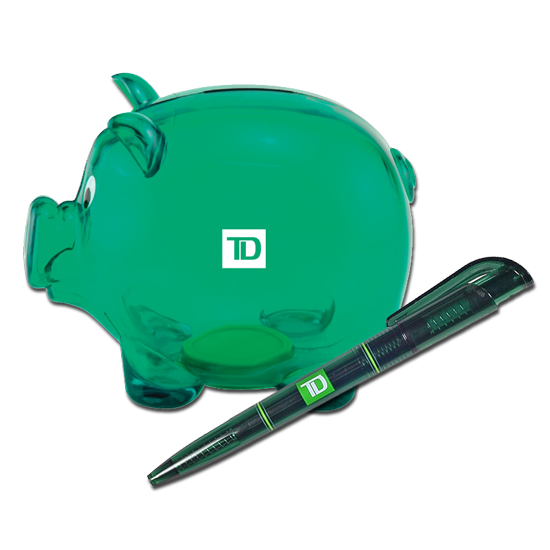 Why Customer Appreciation is Important
Your customers want to be treated well. Customers are the life line to your business and therefor customer appreciation is important. It's important so that you can retain those customers and gain new ones through referrals. When you show your clients that you care about them you build trust and loyalty, generate repeat business, leave lasting impressions and make their experience all around better.
TD Thanks You Campaign
TD Bank is not only good at giving out promotional products but they took their appreciation for their customers to a whole other level. TD Canada Trust had asked their tellers to choose their favorite customers. The selected customers were told that they were going to be used to test out a new ATM system.
The tellers had chosen clients that they knew were going through rough times. These people had the opportunity to use the special ATM aka "Automated Thanking Machines". The machines were very personal, spoke back and called users by their first names. You can see what happens in the video posted below.
One women was given piggy banks and other gifts for her kids including a trip to Disneyland. A Toronto Blue Jays fan was given a baseball cap and shirt, greeted by his favorite player and even got to throw the first pitch. Dorothy received tickets to visit her daughter with cancer in Trinidad. One women received a bouquet of flowers.
The gifts were both big and small. A few of the customers who just happened to be at the bank at the right time were given $20. TD Bank made it a point to show their customers appreciation and create a personal connection.
Do the businesses that you frequent show you appreciation? How have you shown appreciation to your customers? What types of promotional gifts have you received in exchange for your business?