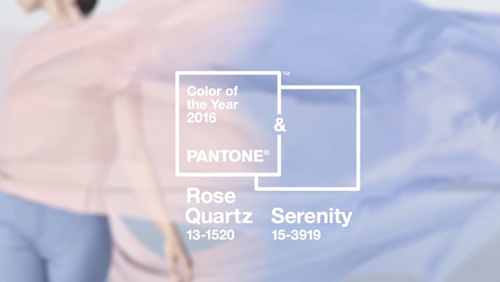 Serenity and Rose Quartz
The Pantone color of the year for 2016 is a blend of two refreshing and subtle colors; a huge contrast to last year's Marsala. This is the first time they used two colors instead of one.
"With the whole greater than its individual parts, joined together Serenity and Rose Quartz demonstrate an inherent balance between a warmer embracing rose tone and the cooler tranquil blue, reflecting connection and wellness as well as a soothing sense of order and peace," says Leatrice Eiseman, executive director of the Pantone Color Institute.
Here are just a few of the words Pantone uses to describe the feeling Serenity and Rose Quartz psychologically portray.
Balance
Calming
Wellness
Compatible
Duality
Tranquility

When Pantone releases their color of the year they are setting the tone for upcoming trends. They pull influences from fashion, automotive design, interior design, technology and trade shows. They analyze how color impacts mood and how it relates to current events.
Colors are important within the promotional products industry as well. Logos and corporate identities use specific PMS colors to represent their brand. PMS stands for the Pantone Matching System. This system is how were are able to make sure that corporate colors remain consistent and that they match when printed on promo items. Read The Importance of Color and the Pantone Color of the Year to learn more.
Will your brand dictate a trend? Will you follow this trend or create a new one? How do you feel about Pantone's color of the year choices? Will you use these colors in your own brand or design?