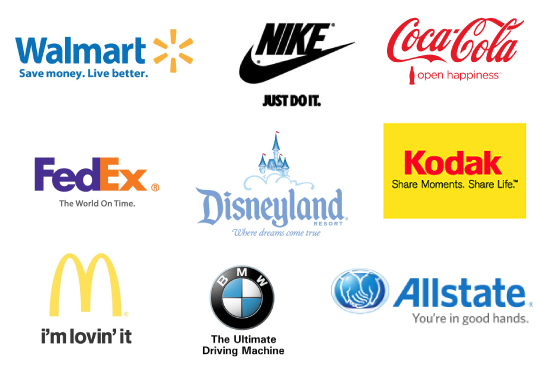 Catchy taglines and slogans are so important to your brand. A tagline has a lot of weight to carry meaning it has to say such much in so little words. Your slogan or tagline has to say what you do, what makes you different and why you are great at it.
The Importance of Catchy Taglines and Slogans
Taglines are important because they are everywhere your logo is including printed promotional products. The right slogan can make anything go from appearing to be mediocre to extraordinary. Second to your logo your tagline is the next most noticeable component of your brand. A great slogan is important because it captures what you want your brand to look like, feel like and be about. The biggest challenge of a memorable slogan is that it has to be short, sweet and simple yet say it all. Successfully catchy taglines are so memorable that I bet if you thought about it you would be surprised at how many you know. Here are some examples from big brands:
Walmart – Save Money. Live Better.
Nike – Just do it.
Levis – Quality never goes out of style.
Energizer – Keeps going and going and going.
PlayStation – Live in your world. Play in ours.
Nikon – At the heart of the image.
FedEx – The World on time.
Disneyland Resort – Where dreams come true.
McDonalds – I'm loving it.
Burger King – Have it your way.
Coca Cola – Open Happiness.
Adidas – Impossible is nothing.
IBM – Solutions fro a small planet.
Kodak – Share moments. Share life.
M&M's – Melts in your mouth, not in your hands.
Campbell's – Mmm mmm good!
BMW – The ultimate driving machine.
Here are our 5 Tips to Writing Catchy Taglines and Slogans
1. Share your commitment. What is your company devoted to providing for it's customers? Use your slogan to show why your brand can be trusted. This is a great way to stand out against other brands that provide the same type of products and services.
2. Keep it short and sweet. Keep your tagline simple. A tagline should not go over one full sentence. As we see listed above a catchy tagline can be as little as one or two words.
3. Make it fun. If it is suiting to your brand make your slogan fun. You can also make it a jingle to make it easily remembered. One of the most popular taglines is from Energizer. Who could forget the bunny who "keeps going and going and going"?
4. Highlight what makes your company different. Your slogan should state what is unusual about your brand or something that is not standard to your competitors.
5. Be honest. When you write your tagline it is important to reflect your brand honestly and accurately. Are you really "number 1" or "the very best"? Be realistic. A good example is Visa's tagline: "It's everywhere you want to be". Visa's tagline emphasizes the company's advantage in a clever but real way.
What catchy taglines and slogans can you recall? Do you have a tagline for your brand? What do you think makes a memorable slogan?