Consumers like convenience and never before has fast food been so popular. There are drive-thrus so that you don't even have to leave your car and not just for fast food. I have seen drive-thrus at pharmacies, dry cleaners and even supermarkets. Most Americans usually are on a tight schedule and want convenience where ever they can get it. But convenience is not all they are looking for. It is no surprise to most of us that many Americans are hard pressed to find time for home cooked meals around the dinner table and often turn to fast food as an alternative.
Although American's are purchasing fast food in record numbers, more and more they are looking for healthier options. KFC recognized this and made an effort to bridge the gap between fast food and healthy options by introducing their new Go Cups. Designed to fit into just about any car cup holder, the Go Cup holds smaller portions often referred to as "snack-sized" and comes with five different food options. The Go Cup doesn't only just fit into your car cup holder, it separates the food you ordered; chicken from fries for example. The most interesting fact is that KFC has not only found a way to make their customer's meal more convenient while they are driving but it also passes on savings to the consumer because the Go Cup meal options cost almost half the price of the least expensive full meal on KFC's menu. I know, it may sound like I am writing this piece to advertise KFC's new Go Cup but that is not the case. Reading about the new addition to KFC's menu caused me think about how often businesses are looking for a way to keep their brand relevant and often the answer is innovation and risk taking, KFC has done both.
In addition to convenience, KFC has found a way to create a healthier food option and a less expensive alternative to other items on the menu. The smaller portion sizes alleviate some of the guilt that may come with purchasing fast food and the less expensive option speaks to the fact that KFC is sensitive to the expense that comes with dining out. For KFC the cheaper prices broadens their target market. By making their product less expensive they have simultaneously made it more affordable for potential customers and existing customers alike.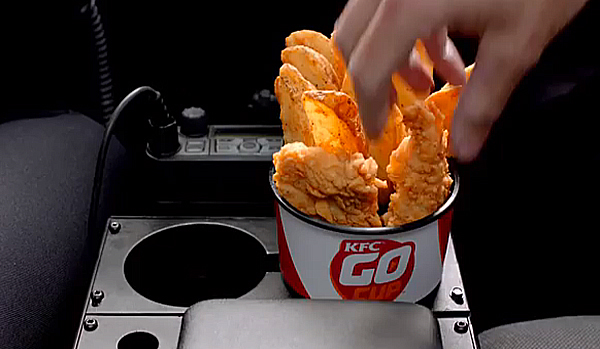 Convenience goes a long way. For example, United States Post Office is almost out of business because it is more convenient to send emails. When is the last time you mailed a hand written letter? When is the last time you mailed a typed letter? If you were to ask anyone under the age of 25 about a pen pal they would either think you were referring to their Facebook/Twitter/Instagram friend or that they misheard you all together and you said PayPal. Speaking of social media, there is also a KFC Instagram campaign that goes along with the Go Cup. Users are encouraged to Instagram photos of the cup with the hash tag #GOCUPGO. This is a great example of how your customers can do the marketing for you! Similar to how the Red Solo Cup became popular through a music video.
The Go Cup is innovative; a branding dream. They have found a way to market to the changing consumer. I don't eat out much however almost everyone eats out at least once a week. Where do most of us eat? Why on the go, of course. Members on the boards of other food chains must be wishing they had of thought of the cups first. The Go Cup is not just a food carrier, it is a promotional product. KFC found a way to make their promotional cups a part of the eating experience and in doing so they have created a way for potential customers to see their logo. The cups have the KFC logo on both sides along with their famous red and white colors. The design is sleek and eye catching, just what you would want in a promo cup. Because the Go Cup is something many people have not seen before, marketers are hoping that it will draw old and new customers into having a conversation about it resulting in them later making a purchase.
Taking a risk is just what KFC may have needed and it looks like it is about to pay off. Often it is something new and innovative that takes our company to the next level. Through convenience, branding and marketing through social media, expanding our target market and changing policies or products to fit the ever changing needs of consumers your business will have all of the necessary tools to be successful for many years to come.
Has your company done something new or innovative to evolve with an ever changing market? If so, what was it and did it work? I'd like to know.
Have you ever run a social media campaign? How did it work out? What about the cups, what are your thoughts?