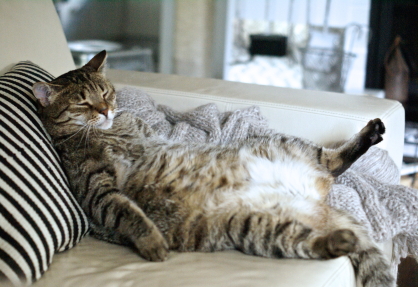 For those of you living in the US, being with loved ones on Thanksgiving may be something you were looking forward to all year. For those outside of the US, I'm sure you can relate this to any festive gathering. Anyway, now it is over and you are left with the fallout. A couple of weeks ago I wrote a blog on healthy habits during the holidays and I don't know about you but I over indulged. Instead of beating myself up for it, I decided to do something about it and write this post in continuation on how to stay healthy during the holidays. It's time to get off the couch like the lazy cat in the photo above and get back to business!
Here are 10 ways to put you rejuvenate your mind and body to get back to business after a big holiday.
1. Be Thankful
Ok, you over indulged, so did I, forgive yourself. Don't feel guilty about it. Instead be thankful for the time you were able to spend enjoying yourself, family and friends. This is a great opportunity to show others how thankful you are too. In business and in your social life, a personal gift is a memorable way to say "thank you".
2. Rehydrate
We literally can't live without it and replenishment after the holidays is just what the body is probably craving. Did you have a traditional Thanksgiving meal? I did and just the sodium in the turkey alone is usually enough to make our organs cry out in protest. So be kind to your body and hydrate. Drinking water is also a natural way to flush out toxins and a natural weight loss solution because it makes your stomach feel full therefore you eat less.
3. Detox
Although drinking water is a good start to detoxification, there are other natural ways to detox your body that are simple. Trade in a cup of coffee in the morning for hot water and fresh lemon juice. Thinking you may need some more flavor, herbal teas are also a great natural way of getting rid of the toxins in our systems. I love tea. I drink it all day, everyday.
4. Juicing
Juicing sounds so hard and expensive. Between all of the ingredients and purchasing a high-powered blender or juicer, it all just seems so complicated but it actually isn't. Before you have lunch, have some juice. By making your own juice you control your sugar and nutrient intake. This will not only cleanse your system but also boost your immunity. Blended together apples, celery, ginger, parsley, cucumber, fresh lemon juice and cinnamon are a powerful antioxidant. If you don't have a blender handy, consider infusing your water with fruit, mint, cucumber or cinnamon. I use my Flavorade Cup all the time!
5. Put your Freezer to Use
Get those leftovers out of your refrigerator. One good way to avoid the temptation that comes with looking at Thanksgiving leftovers is to freeze them. I froze all of my leftovers in portions so now when I have a taste for some Thanksgiving food I can reach right into the freezer and without too much guilt because the portions are controlled.
6. Herbal teas
I briefly touched on herbal teas earlier in the post but there is a tea out there for just about anything that ails you. There are a lot of herbs that we may never consider ingesting like dandelion. When I first saw dandelion tea I thought, the little yellow flower, I'm supposed to drink this? But it has many different medicinal uses. So why not swap out a soda or cup of coffee for a cup of tea? Peppermint or any detox tea like red clover, dandelion, chai, ginger and green tea are all perfect options to aid in getting your system back to normal.
7. Eat Your Greens
Grab a serving of green leafy vegetables, the greener the better. Leafy greens along with other green vegetables such as broccoli, brussel sprouts and green beans are all great for digestion. Animal products, white sugars and refined carbs should always come second to vegetables. The more vibrant the color, the healthier it is for you. If you really want to challenge yourself, take a break from dairy and red meat and follow a Mediterranean diet which is comprised of fatty acids, vegetables, lean proteins, and healthy fats; a great place to start.
8. Fiber
We rarely want to think about why we need fiber, but we do. Fiber aids in flushing out your bowels. Not hard to come by naturally through eating more fruits and veggies, fiber also comes in the form of supplements. It is important to drink water when you take fiber, the two together acts as a flush for your system.
9. Get moving
So it is certainly not the first time we have noted exercise as being beneficial for your mind, body and soul, but it is so important that it has once again made the list. Go for a walk or jog, take yoga or an aerial silk class. Whatever you do, MOVE YOUR BODY. Second only to eating, exercising will keep your body healthy, active and looking young. Finding 20 minutes a day to do some type of cardio exercise is what we all need and your heart will love you for it.
10. Meditate
This doesn't mean that you have to light incense and chant (although that is great too), but it does mean that you have to take a moment to unplug, even your computer needs to be shut down sometimes and being that your brain is your body's computer, it needs to shut down sometimes too. Make time for yourself, do something that brings you joy. Reading, knitting, hiking or just taking a hot bath with essential oils and/or bubbles maybe just what your body needs to reboot, essential oils or bubbles.
If we truly are what we eat than healthy living starts with our eating habits. But that is just where it starts, healthy eating habits contributes to how healthy our success in business will be also. Meditation opens the door to thinking freely and inspires great ideas. A healthy mind and body is so important for your marketing and creativity. It is through centering our minds and bodies by simply unplugging from the world and remaining healthy that makes us fit and ready to get back to business after the holidays.
Here is some more great advice on how to relieve stress during the holidays so that you can get back to work with a clear mind!