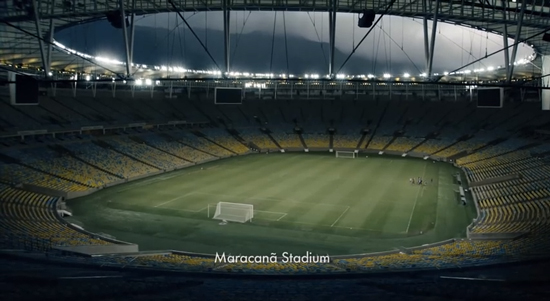 For me, American football is my game of choice. I love watching the games all the way up to the Super Bowl. However, it's been pretty clear these past few weeks that soccer, the other football, is definitely more popular when you look at it on a grander scale. It's a world sport. For global advertisers like FIFA World Cup Partners, McDonalds and Coca-Cola, it's a really important event. There are more eyes watching these games then any other event worldwide. Hence the significance of connecting with a global audience.
Just like during the Super Bowl, there have been very creative advertising promotions surrounding the World Cup. It's estimated that there are about a billion people watching the games. Big advertisers have to step up to the plate to catch the attention and connect with football fans around the world.
We are used to seeing famous players in these ads but this year McDonald's created a commercial that I just loved. It doesn't have anyone overly famous in it. Most of the people in the video are unknown. It shows people in their local environment showing off their soccer skills. To make it even better these people are children, seniors and women in high heels doing soccer tricks. It was made in conjunction with their current french fry peel off game. They are using it as a way to attract attention to the game. Surprisingly they didn't need to show images of the actual product. For me, watching these soccer tricks is pure entertainment. Have a look. It somewhat reminds me of the Michael Jordan vs. Larry Bird commercial from way back when.
http://youtu.be/-T7zyezBkuY
Coca-Cola took the more inspirational route. They wanted to show how the World Cup brings people together. And what's always there when people come together? Coke. With the tagline "Everybody's invited." they have created a short story showing how people in eastern countries overcame hardships through the game of soccer and eventually made it to the World Cup. It's a heartwarming commercial and it's full of pride; all the right feelings to connect with a global audience.
Both of these commercials can teach us lessons for our own branding and ad campaigns. It's about making a real connection with your audience. These companies were able to take one common thing and use it to relate to their brand. Find out the one thing your audience has in common and use it to connect to a broader crowd. Read my previous post, Super Bowl Advertising: You Don't Need a Commercial Just Some Creativity, for more ideas.
Did these commercials make an impression on you? …even if you don't watch soccer? Do you feel that McDonald's and Coca-Cola were successful in connecting with a global audience in these two commercials? What angle would you take when wanting to connect with a global audience?