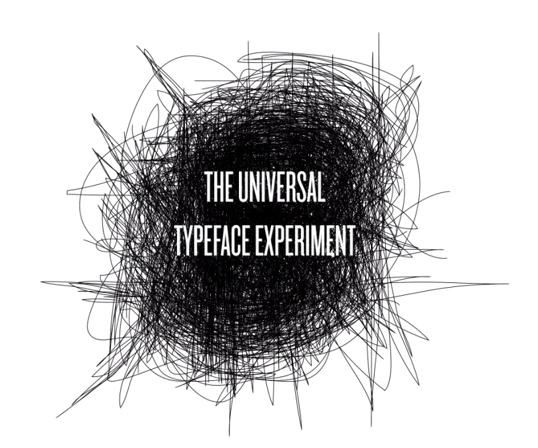 BIC has started a new campaign where they utilize crowdsourcing. Crowdsourcing is a way of gathering information, ideas, content or the needs of a large group of people. It's a good way to make people feel like they have contributed to something while your company has the opportunity to collect data and advertise.
To celebrate 100 billion pens manufactured and their new Cristal pen/stylus, through crowdsourcing they want to create the world's first universal typeface. They're calling this event the Universal Typeface Experiment. The wonderful thing about this experiment is that everyone who contributes will feel like they are a part of the final product.
They have set up a dedicated website to collect digital handwriting from people around the world. It will be interesting to see how different people write the same letter. The handwritten contributions will then be used to create a new font called the "Universal Typeface" which will be released in August. I would think that this experiment is very challenging for BIC. I love how it shows that in a world that has gone digital, writing by hand is still a preferred medium. I'm excited to see what the new typeface will look like.

This is a great promotion for BIC. It completely relates to their brand, it gets users engaged and at the end of the day there is a tangible product that is being promoted, the Cristal pen/stylus. What I love about the Cristal pen is that it's classic. It's known to be the most commonly used pen, which explains how they got to 100 billion manufactured. It was a smart move turning the Cristal into a pen/stylus; it will carry out what the brand stands for, for many more decades to come.
BIC products are the some of the most commonly used promotional products as well, especially BIC pens. Using a well known brand name product to promote your own brand makes your marketing message that much stronger.
What are your thoughts on a universal font? Will you contribute to the Universal Typeface Experiment? Would you consider getting creative in leveraging crowdsourcing for your brand marketing?