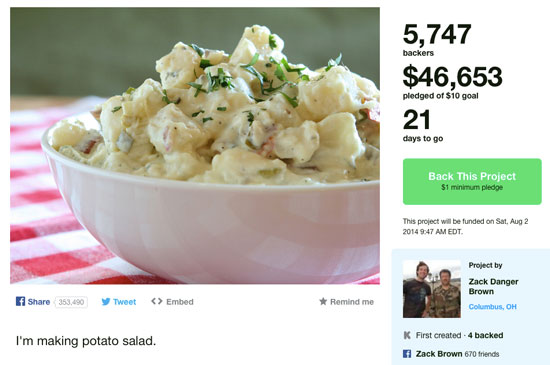 There has been a lot of talk about potato salad lately. Not because it's summer time and everyone is planning their dishes for weekend barbecues. We're talking about close to $50,000 potato salad. The Potato Salad Kickstarter campaign has made the news quite a few times this week. Kickstarter is a crowd-funding network. So what's all the craze over potato salad about?
The campaign was started by Zack Danger Brown of Columbus, Ohio with an initial goal of $10. Brown had potato salad on his mind and realized that he had never made it before. So, a light bulb went off and he thought it would be fun to start a crowd-funding campaign on Kickstarter. Brown simply states, "Basically I'm just making potato salad. I haven't decided what kind yet". His straight forwardness makes the whole thing hilarious. However, this joke is actually a genius marketing stunt and here is why.
The Success of the Potato Salad Kickstarter
The idea was launched on July 3rd, a day before a huge US national holiday famous for picnics and barbecues which almost always includes potato salad. During holiday weekends people have more down time to surf the internet for interesting and humorous content. So his timing was perfect.
The ridiculousness of it has intrigued the interest of supporters all around the world. Most people said they had supported it to see if they would really get the bite of potato salad they were promised if they pledged at least $5 or more.
Crowd-funding makes people feel like they are a part of something bigger than themselves. I think to those who have pledged, it would be fun to have had contributed to the most expensive bowl of potato salad ever.
Brown was short and to the point. He was able to get his message across. What's more simple than "I'm making potato salad"?
I have to be honest, the photo he used made my mouth water. How you present your brand is so important. The image he choose was very eye catching.
How much potato salad can one make?
While Zack Danger Brown was able to raise almost 5,000 times more of his original goal he may have just created a problem for himself. How is he going to fulfill all of his pledges? What is he going to do with all of the money? He mentioned that he would have a potato salad party and the whole internet is invited. For lesser pledges he'll send thank you cards and say your name as he makes the salad. He's making imprinted hats and printed t-shirts. He'll carve your name in a potato and he is writing haiku's about potato salad! You can get a photo of him making the salad too. He also mentioned that he his trying to look for ways to put the money to good which seems like the most logical and ethical thing to do.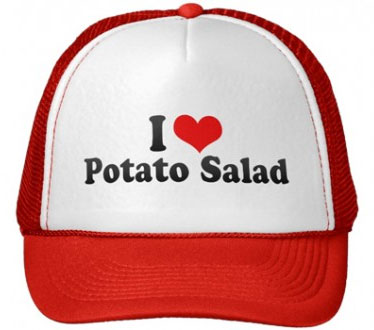 What can we learn about advertising from this potato salad adventure:
When you keep things simple they can go a long way.
A little humor is always a good way to keep your audience enthused.
Timing your promotional campaign is essential.
Choose eye-catching printed advertising materials that will make your client's mouth water.
Would you ever make a pledge to something like this? Do you think Kickstarter should have allowed this type of campaign? Since Brown started this, other's have tried to pull off the same stunt. What do you think those people will need to do to be as successful as the original Potato Salad Kickstarter? Why do you think it took off?
Do you have an Idea for a Fundraising Campaign?