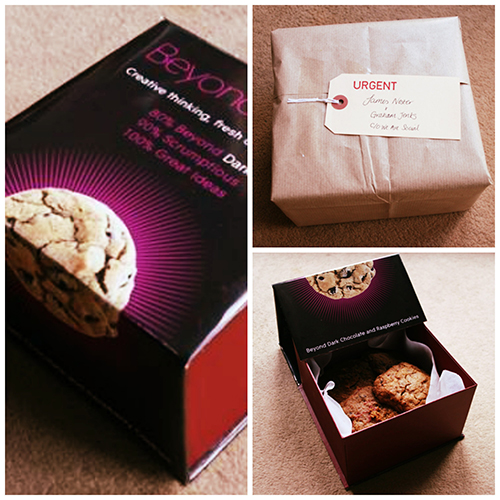 I'm not complaining, but there is always that one person who likes to bring leftover baked goods into the office. You know what I mean. For example, around any holiday while you are trying to be "good" at every turn there is another treat calling your name? Well, this clever designer used the irresistible temptation for baked goods to her advantage.
Her name is Crystal Nunn and she came up with a genius idea while applying for a job at London's We Are Social. She brought them cookies! Not any cookies, cookies made with ingredients from one of We Are Social's brands. The promotional cookies were packaged in a box that she had designed and labeled with clever self-promotion commentary. In addition, she wrapped the box in brown shipping paper and marked it "urgent". I love that! Who doesn't open a package marked "urgent" immediately?
Also inside the box was a flash drive, which contained her resume and design portfolio. Nunn received a response within the hour of delivery requesting an interview. Needless to say, she got the job. Her idea was a great way to stand out and get noticed.
Here are three ways in business or in life that you can stand out and get noticed too!
One – Diversify
Do you find yourself doing the same thing all the time? Diversify your marketing strategy. Ideas that are different attract immediate attention. Allow yourself the time to come up with a unique idea.
Two – Respond
So now that you've got their attention with your great idea make sure you follow through. You don't want to get people excited about something and then keep them waiting. If you do that then they will lose interest just as quickly as you grabbed their attention.
Three – Do More
Do more and go the extra mile. Adding a personal touch like Nunn did by baking cookies shows that she is willing to go above and beyond to impress her employers. Gourmet promotional gifts are a great way for you to show your sweet side too! No baking necessary!
Are you willing to go above and beyond to impress a client? Have you ever received such a gift that really made an impression on you? What have you done to stand out? Was it a success?