I'm a big fan of The Voice and came across this video the other night. Karise Eden blew away the judges and the audience. In The Voice the auditions are blind meaning the judges have to make decisions based on voice alone and not on looks. If they vote in after hearing someones voice then they have to convince the contestant to work with them. When chosen the judges then help the contestants try to win the competition and build their music career. What I love about this video is the "wow" factor. As she walks out on to the stage you don't know what to expect but then as soon as she opens her mouth you are shocked. During Eden's blind audition each judge buzzed in after hearing just a few seconds of her sing.
4 Ways to WOW Your Audience in Business
1. Bring in the Smarts
One way you can wow your audience is by doing your homework. Doing the research on your target audience and having the most knowledge about what you are trying to sell will make your presentation powerful. One of the best ways to impress your audience is to tell them something they don't know. Impress them with your knowledge and make them think. Show them your smart and clever side.
2. Wow with Design
Now that you are full of knowledge make it pretty. Wow your audience with good design. Good design can make the most simple things more desirable. Present your goods or services well to achieve that must have feeling. Whatever medium you maybe using to attract your customers, a well designed print ad, website, power point presentation or email blast will get more attention than one that is not.
3. Surprise Them with Love
A promotional gift or giveaways are always a great way to surprise your clients. It's unexpected. Wow them with a custom promo that they will keep as a way to remember your brand. When you give it shows emotion and appreciation.
You can also surprise your audience by showing them something they won't expect. Eden has a strong voice and she chose a song that meant something to her. She could have picked a more subtle song but she sang a song full of emotion. When she sang it was powerful and unexpected; took us all by surprise.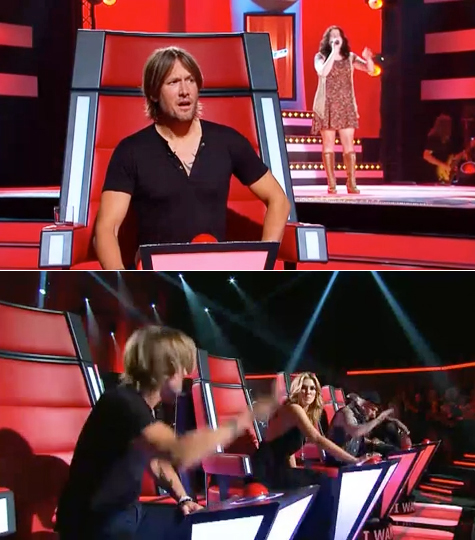 4. Anticipation
Generate a buzz with anticipation. By having blind auditions on The Voice the show is more exciting. Even though we can see the contestant the judges can not. The excitement builds when you are trying to figure out who will buzz in first then again when you want to know who the contestant is going to choose to work with. These types of shows are full of anticipation. Keep your audience on their toes and you'll be sure to wow them.
How can you come on as strong as Eden did? What characteristics do you own that you can use to wow your audience? How do you keep your customers on their toes and full of anticipation?