Nothing warms up the soul like a hot cup of soup! 
https://www.garrettspecialties.com/soup-mugs-c-44_1369.html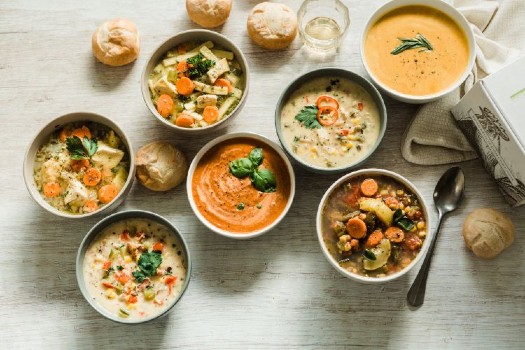 Remember the Campbell Soup jingle? The renowned jingle "Mmm, Mmm Good" from Campbell's Soup catapulted vocalist Marlene VerPlanck
Soup is still popular for lunch or a quick pick me up.
Soup mugs with roomy handles are great for easy carrying and cuddling up with on a cold day. Soup mug designed to heat Soup, noodles, hot beverages, and more in the microwave, to go Cup, Mug, for your home, school, office, make wonderful giveaways for clients and employees.
There are so many uses for soup mugs. Perfect for tea, soup, or cereal and some even has an extra-large decoration area. This is ideal for novelty & business promotions. Our ceramic drinkware comes in a variety of styles, sizes, and colors giving you more options to make it personal. Ceramic items are dishwasher-safe, microwave-safe, and long-lasting. 
Enjoy a delicious hot soup or a bowl of cereal with the with a Soup Mug! Soup mugs features a built-in spoon holder to keep the included spoon in sight and away from the counter or cupboard when storing. The perfect bowl for movie nights in and breakfasts in bed.
Ensure your marketing campaign a huge success when you show off our mugs. Mugs can hold up to 12 ounces of delicious, warm soup and comes in a wide variety of color combinations with a matching spoon so you don't have to pack any utensils.  We only offer mugs that meets FDA standards and hand washing is recommended for optimal use. Silkscreen your logo on this item and make this your next gift. This is sure to get your brand the attention it deserves. 
So what are soup mugs
Larger than cups but smaller than bowls, soup mugs are the perfect addition to any kitchen. These large mugs with roomy handles are great for easy carrying and cuddling up with on a cold day. They can accommodate your favorite soups year-round or simply hold more of your favorite beverages, like coffees and teas.