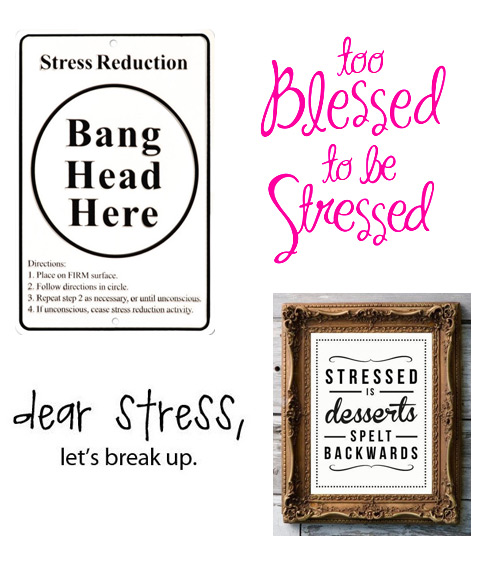 Memorial Day has come and gone and now we are all back reality, back to our stressful lives. In a day and age where everyone is on the go and there really is no time for rest and relaxation, stress in our society is something we all suffer from. We have to fit stress relief in where ever we can otherwise we may lose it!
6 Stress Busting Practices and Promotion Ideas that Help Fight Stress
Plan ahead: Plan ahead and get organized. Being organized will make you less stressed and will also put you in a positive space so that you will have better days. Positivity will help you get more tasks accomplished. There are great tools and gifts to facilitate organization such as custom note pads, memo pads and padfolios, just to name a few.
Use your imagination: Daydreaming, who doesn't need a mental vacation sometimes? By simply visualizing anything that keeps your thoughts away from current stressors we can immediately become relaxed and less stressed throughout the day. Visual aids often help us to mentally escape if only for a little while. Logoed office items such as calendars and printed frames with your favorite vacation photo can help to mentally transport you to your favorite vacation spot.
Give a little love: Love encourages your body's natural relaxation response. By cuddling and snuggling even a teddy bear we can just for an instant forget all of the stresses of the world. The color red in many cultures is associated with invoking positive feelings. Fung Shui regards the color red as the color of arousal and is regarded as bring joy and excitement. Stress ball hearts can help to bring happiness to our day. What better way to think about the one we love than with a photo frame keychain. Nothing makes us feel loved more than the ones we love.
Listen to relaxing music: Soothing sounds are known for being one of the best things we can do to relax. From different types of music to CDs with nothing but ocean sounds we use sounds all of the time to relax. What better way to promote your business then by offering portable speakers, while offering some stress relief? Not only can they be used in the home or office, but they can also be used out on the go or at a picnic. I can't think of too many other things that would give your business better exposure.
Get exercise: Working out is one of the most effective stress relievers. Workout gloves, exercise kits, pedometers, water bottles, food and fitness journals are all wonderful ways to promote your business. All of these promotional products are the type of things you use on the go. What can be better for a company than constant advertisement? These are things we see at the gym, in people's cars, homes, offices and even walking down the street.
Laugh a lot! How many of us have heard that laughter is the best medicine? Well it's true and there's a plethora of advertisers at Garrett Specialties to make you laugh no matter how old you are. Too often we underestimate the power of laughter. Stress balls are a lot of fun too!
Everything evolves and so have promotional products. Long gone are the days of just putting your company logo on pens and pads only. Specialty gifts can be used in every facet of life and stress relief is not exempt.
What better way is there to promote your business then by using stress awareness giveaways? There are all kinds of stress busting promo items and at Garrett Specialties we offer an array of them.
How have you incorporated stress fighting promos and marketing into your business?