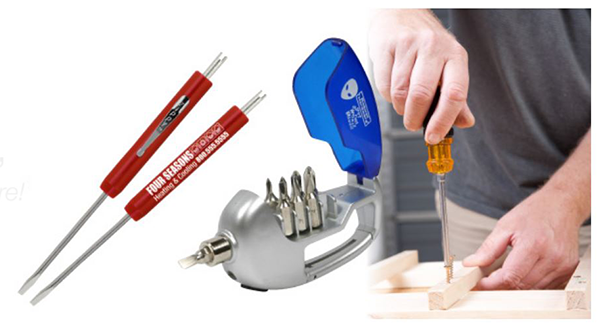 Have you ever wondered where screwdrivers got their name. Years ago a famous cocktail was called a screwdriver which was made from orange juice and vodka. When workers were drinking on the job they something to stir their drink with. Yes you guessed it, they used a screwdriver as they did not have a spoon. A screwdriver is used for installing and removing screws.
Screwdrivers have evolved over the years as screw heads have changed. So the Phillips head screwdriver came into play as an Oregon businessman Henry Phillips developed the Phillips head screw. In the auto industry in the early 1900's needed screws that could take a greater torque so then the Phillip Head screwdriver was invented.
Today one of our hottest selling items are promotional screwdrivers. You can select Phillips, Flat Blade, Screwdriver Tool kits and many are made right here in the USA. Make a screwdriver the essential element to your next successful marketing plan. Think about it, who can't use a screwdriver. View out reversible, magnetic, standard styles and Phillips whether they are pocket size, keychain or standard size and add your logo or message, we can get your brand noticed. Keep your message in your customer's hand.
The world's favorite pocket screwdriver is great for all industries. You can match the right tool with the right industry. Our USA made screwdrivers are made for building your brand. So whether you are handyman or craftsmen, people will definitely use and remember your business when you hand out the perfect tool. If you are sitting at your desk and all of sudden your eyeglass what do you look for to fix them. Get the right tool for the job. No one ever throws a tool away because they are handy and useful. Perfect message tool "Working together toward a solution", "Right tool for the job" for a high retention item