We offer custom mugs where businesses can put their brand names out to the world in a fun, creative way — and coffee mugs are an effective way to get started. In the United States 62% drink coffee every day and 159 Million Americans drink tea. When you have a daily intake of coffee or tea, most people get emotional attachment to their favorite mug, making it even more pleasant to enjoy a cup at home each morning. With that said, it's easy to see why using coffee mugs for advertisement purposes is such a great giveaway idea. So what mug should you choose which will be the perfect promotional mug for your business
Picking the Perfect Mug
Not all coffee mugs are created equal. One mug may be microwave-safe, another may be strictly handwash-only. The material you choose affects a mug's overall functionality and durability. Also, some styles may only be available in certain materials

Ceramic Mugs
Ceramic mugs are the traditional type that is perfect for coffee or tea, and can come in a wide range of shapes and sizes. From the classic to unique styles, adding your logo to a ceramic coffee mugs have endless possibilities. Additionally, they're cost-effective, can retain heat and are easy to clean. An advantage to a ceramic mug they present a suitable surface for many logo designs. However, even though they're heavier, they do break more easily than mugs made of plastic or stainless steel. Because of their somewhat fragile nature, ceramic mugs must be cared for.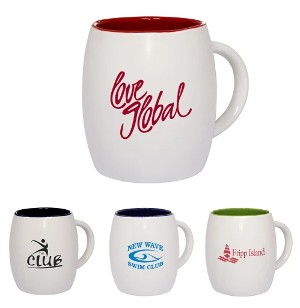 Glass Mugs
Glass mugs are popular for a latte or Irish coffee, glass mugs add a little class to every coffee and tea setting. These are some of our favorite glass. Glass mugs re perfect for ice coffee and many other cold beverages. You logo looks great because they are clear so your logo when imprinted on a glass mug, pops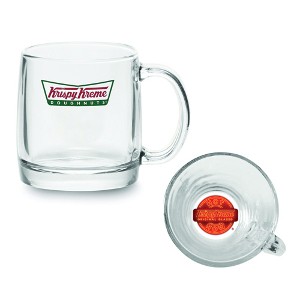 Stainless Steel Mugs
Stainless steel mugs make great promotional travel mugs or automotive mugs. These mugs are reusability, are also eco-friendly Plus, stainless steel mugs retain beverage temperatures better than any other material and come in many styles. Most stainless steel mugs come with leak-proof lids, making them ideal for people on the go.
While they can be customized with various colors for company branding, stainless steel mugs which makes they a popular gift.