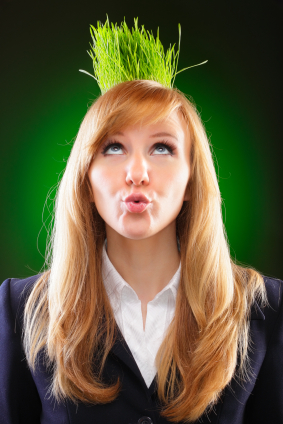 Whether or not we want to think about going green, slowly it is happening underneath our eyes. Have you noticed you can't buy the regular light bulbs anymore? The only ones available are energy saving ones. We also don't have much to say about what is put into our gasoline to make it more energy efficient. We are told not to have our heat set higher than 70-72 degrees. Many of us are doing that already without being told because the cost is so high to heat your house in the first place. We are doing our part without even realizing it. Recyclable and environmentally friendly products are now part of the new green movement. Have you noticed that your grocery store doesn't carry as many plastic bags? Many of us are carrying promotional grocery totes to the stores.
Earth Day is around the corner, but Earth Day should be every day. So, we thought we'd give you ideas on how to go green at home and in the office.

10 Ideas of What You Can Do to Go Green at home
Turn off lights when you leave a room.
Wash your clothes in cold water instead of hot.
Get rid of those harsh cleaning chemicals. Try using vinegar and water instead of bleach or strong cleaners.
Use cinnamon in your home instead of room fresheners.
Pay bills online.
Reuse both sides of paper.
When leaving the house, unplug appliances and chargers.
Use stainless steel or promotional water bottles instead of disposable bottles.
When on vacation, turn back your water heater temperature.
Carry reusable totes to the grocery store.
So now, we know what do at home but what about the office?
10 Ideas of What You Can Do to Go Green at the Office
Buy branded BPA free sport bottles instead of disposable bottles. (Just looking at the stack of them on the shelves and knowing that they are going to be thrown away is an eye opener.)
Give up those paper cups too and hand out mugs that are imprinted with your logo. (Not only will you be helping the environment by not adding more plastic waste but you're putting your message out there for people to see while reusing your mug daily.)
Don't send memos, email them.
Get rid of the fax machine and use your computer to accept faxes and delivery them.
If you need notebooks, purchase recycled material notebooks, note pads, and sticky notes.
More and more companies are cutting out the need to travel and hold meetings remotely.
Eliminate stationary and go digital.
Have you noticed that in the summer you see many of your employees wearing sweaters? Turn down the air conditioning.
Use green cleaning products at work.
Add plants to the office as they emit healthy oxygen in the air.
Encourage Green Awareness with Promotional Products
With the rise of the going green promotional items and trends, many companies are wanting to do their part in creating an eco-friendly environment. Today, the promotional products industry is doing their part in offering eco-friendly products. We are making it easy for you to promote your business with customized recycled tote bags, pens made of bamboo and other biodegradable products.
Organic is a new term for this century, from organic foods to organic clothing. Doesn't it make more sense to imprint on a soy candle with an organic cotton wick? You get the same visibility as a wax candle without polluting the environment. They have natural fragrances that make your office a nice place to be.
Buy promotional products that encourage green awareness. Buy online from a company you can trust that has been selling promotional products since 1991.